The Billion Dollar Green Challenge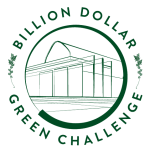 The Billion Dollar Green Challenge (The Challenge) encourages colleges, universities, and other nonprofit institutions to invest in self-managed green revolving funds, with the goal of creating a combined total of one billion dollars in funding on hundreds of campuses. Participating institutions will achieve reductions in operating expenses and greenhouse gas emissions, while creating regenerating funds for future projects.
The Sustainable Endowments Institute, in collaboration with 16 partner organizations, launched The Challenge to help nonprofit institutions achieve sizable energy savings through the use of green revolving funds. The Challenge was launched at the Association for the Advancement of Sustainability in Higher Education Conference in Pittsburgh, PA on October 11, 2011. Green revolving funds (GRFs) invest in energy efficiency and conservation projects on campus and reinvest the cost savings in future projects. They are "revolving" because GRFs loan or allocate money for efficiency, track the savings in utility bills, and "revolve" them back into the fund. This process allows the institution to direct these savings into future sustainability efforts or elsewhere on campus.
Research on GRFs by SEI found them to be a successful mechanism for funding energy efficiency. In 2012, SEI found a 28 percent median annual return on investment on GRF projects from reporting institutions inside the report, Greening the Bottom Line 2012.
The Challenge has 43 institutions that have committed a total of $76 million to energy efficiency upgrades by developing a green revolving fund. Benefits to being part of The Challenge include access to project-specific data from other schools with GRFs, sharing of revolving fund best practices between institutions, access to the Green Revolving Investment Tracking System (GRITS) web tool for managing and tracking GRF energy and cost savings data, and technical assistance from SEI for launching their fund.In addition, joining The Challenge is a way for institutions to have their sustainability efforts recognized and receive positive media attention. To find out more about The Challenge, please visit www.GreenBillion.org.
(NEW REPORT) College Endowment Investment Trends and Best Practices: An Analysis of STARS Data
Read the new report: College Endowment Investment Trends and Best Practices: An Analysis of STARS Data analyzes the Sustainability Tracking, Assessment, and Rating System's (STARS) data from all 178 institutions that earned at least one of the six STARS investment credits. The aim is to provide accessible information to enable schools to learn from each other's experiences, thereby fostering more effective endowment investment policies.
The Green Revolving Investment Tracking System (GRITS 1.1)
The Green Revolving Investment Tracking System is designed to streamline the tracking and calculation of project-level energy, financial and carbon savings data for all sustainability projects and efficiency improvements.
The tool is a secure, account-based web tool that allows users to move beyond spreadsheets for all energy and resource efficiency work. With GRITS, you can calculate accurate and up-to-date information on proposed, in-progress, and completed projects, access project data from other organizations, and transform the data into graphs and visuals to share with your team or your community, all in an easy-to-use platform.
GRITS is the culmination of more than three years of development and collaboration with industry experts and participants in the Billion Dollar Green Challenge. The tool is available to all institutions that participate in the Billion Dollar Green Challenge and now also available by subscription through the new GRITS Affiliates program. For more information, visit GRITS Affiliates. To see GRITS in action, view this 60-second video.
Read the press release on recent GRITS subscribers Dickinson, Emerson, Wellesley, and Williams.
Leadership in Energy Efficiency Financing Network
The Leaders in Energy Efficiency Financing (LEEF) Network is a New England-focused program to help implement green revolving funds (GRFs) in higher education, healthcare, municipalities, and nonprofits. LEEF functions as an information distribution system focused specifically on the implementation of GRFs at institutions in Massachusetts and throughout New England. The network provides access to cross-sector collaboration and peer-to-peer contact. LEEF staff offer presentations that can be tailored to fit the needs of many organizations and are available for strategy sessions with working groups and committees. The LEEF program also provides hands-on support for developing documentation and proposals for GRF implementation.
All participation and services of the LEEF Network are free due to the generous support of the Barr Foundation, which established the LEEF Network in Massachusetts, and the John Merck Fund that expanded the network to include Maine, New Hampshire, Rhode Island and Connecticut. Vermont 's participation in LEEF is supported under an existing program partnership with the Vermont Energy Investment Corporation. To find out more information on the LEEF program, please contact us at leef@greenbillion.org.
The Fossil Fuel Divestment Campaign
Since June of 2011, SEI has acted as a campus and endowment consultant for the Fossil Fuel Divestment Campaign, working with student groups and partner organizations to advocate for colleges and universities to divest their endowment funds from fossil fuel companies. For more information on the campaign, visit WeArePowerShift.org/DivestCoal and GoFossilFree.org.
The College Sustainability Report Card (The Green Report Card)
The College Sustainability Report Card was the first comparative and independent evaluation of campus and endowment sustainability best practices at colleges and universities in the United States and Canada. The Report Card focused on policies and practices across nine categories: Administration, Climate Change & Energy, Food & Recycling, Green Building, Student Involvement, Transportation, Endowment Transparency, Investment Priorities, and Shareholder Engagement. The Report Card was designed to identify colleges and universities that were leading by example on sustainability with the aim of providing accessible information for students, professors, and staff to establish more effective sustainability policies.
In its fifth edition and most recent edition, the College Sustainability Report Card covered the colleges and universities with the 300 largest endowments in the United States and Canada, as well as 22 additional schools that applied for inclusion. The profiled schools have combined holdings representing more than $325 billion in endowment assets, or more than 95 percent of all university endowments. While Report Card years 2007 through 2011 are available online, the project is currently suspended and no research is being conducted for future Report Cards at this time. Since its creation, the Report Card has developed a more robust methodology, and engaged in a partnership with other sustainability assessment organizations to reduce survey fatigue. Visit www.GreenReportCard.org to learn more about the Report Card and view sustainability grades for hundreds of colleges and universities.
The Minority-Serving Institutions Green Report
In 2010, SEI in partnership with UNCF's Building Green Initiative published the Minority-Serving Institutions Green Report, which surveyed over 50 tribal colleges, Hispanic-serving institutions and historically black colleges and universities about their sustainability practices.